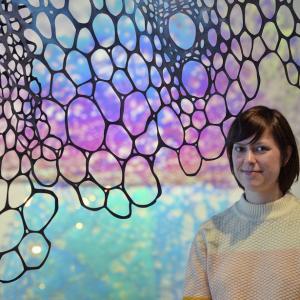 Lizz Aston
Artist member since 2018
Toronto, Ontario
Lizz Aston is a textile artist and industrial designer based in Toronto. In her work, she bridges gaps between traditional textile practice and contemporary art and design. Her work encompasses sculpture and installation, including interactive and site-specific projects. Aston holds an Advanced Diploma in Crafts & Design from Sheridan College, and recently completed a three-year artist residency in the Craft Studios at Harbourfront Centre. Aston is the recipient of numerous Grants & Awards including the RBC Emerging Artist Studio Set-up Award from Craft Ontario. Her work is represented in public and private collections and has been exhibited across Canada, the United States, Australia and South Korea. She is currently completing a Bachelor of Design in Industrial Design at OCAD University
---
When I'm not making art, I'm (a) ...
at OCAD University working on completing a second degree in Industrial Design. You can also find me at the OCAD Student Union office where I work as the Executive Director of Operations on the Student Union. Through my studies at OCAD and my position on the SU, both of these opportunities have allowed me to diversify my skill set in new and meaningful ways, while also advocating on behalf of students, and emerging student artists and designers.
What do you listen to when you work?
Lately I've been listening to Tycho, Small Black, Com Truise, My Bloody Valentine and Black Moth Super Rainbow.
What kind of artwork do you have in your home?
I have some of my own work on the wall, as well as some small works by Kathryn Dane, Gary Michael Dault, Iron Men, Raffael A. Iglesias, Grace Eun Mi Lee and Tara Bursey.
Favourite medium
I love working with hand-made kozo paper from the Japanese Paper place, as well as acrylic, architectural and optical materials!
Your favourite spot in Toronto right now
I've always been in love with Kensington market, and the community of people that I grew up with there. No matter where I am at in the city or in life, knowing I can come back to Kensington and see the people I love always centres me and makes me feel at home.
Beverage of choice
Coffee, or a Dark and Stormy